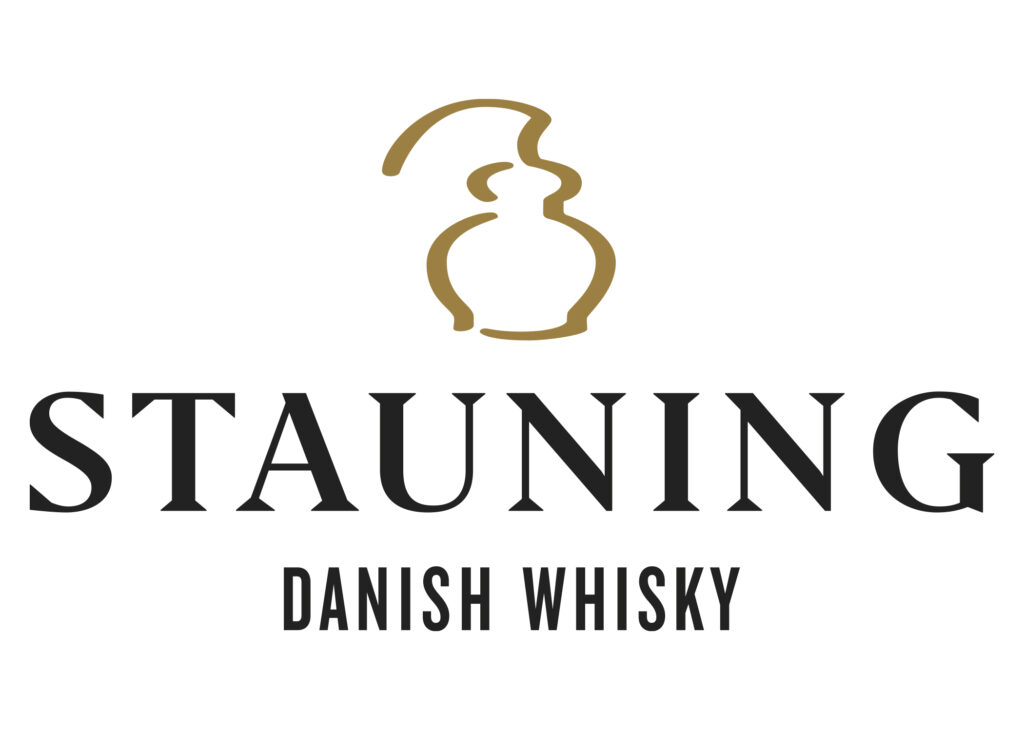 Utan någon som helst erfarenhet, och utan någon som helst aning om hur resultat skulle bli, började ett gäng kompisar lära sig allt om hur man tillverkar whisky. När man 10 år senare bygger ett destilleri som klarar 900.000 liter kan man sammanfatta det som att det lyckades ganska bra. Alla råvaror som används i Staunings whisky, är lokalt odlad och kommer så att bli. Först ut i Sverige är en Stauning Rye.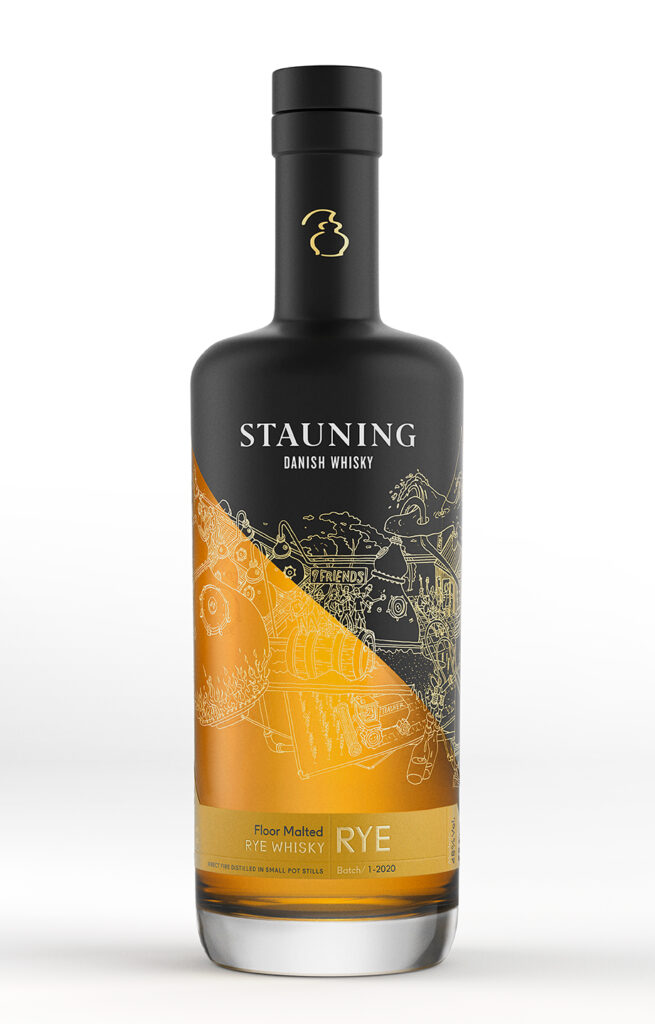 En flytande tolkning av nybakat danskt rågbröd. En nordisk rågwhisky med mörka och rostade aromer och en lång fruktig eftersmak. Detta är en annan sorts rågwhisky. Kombinationen av mältad råg och korn samt destilleringen i pot stills över öppen gör detta till en mjuk, fruktig och fyllig whisky.
Art nr SB: 416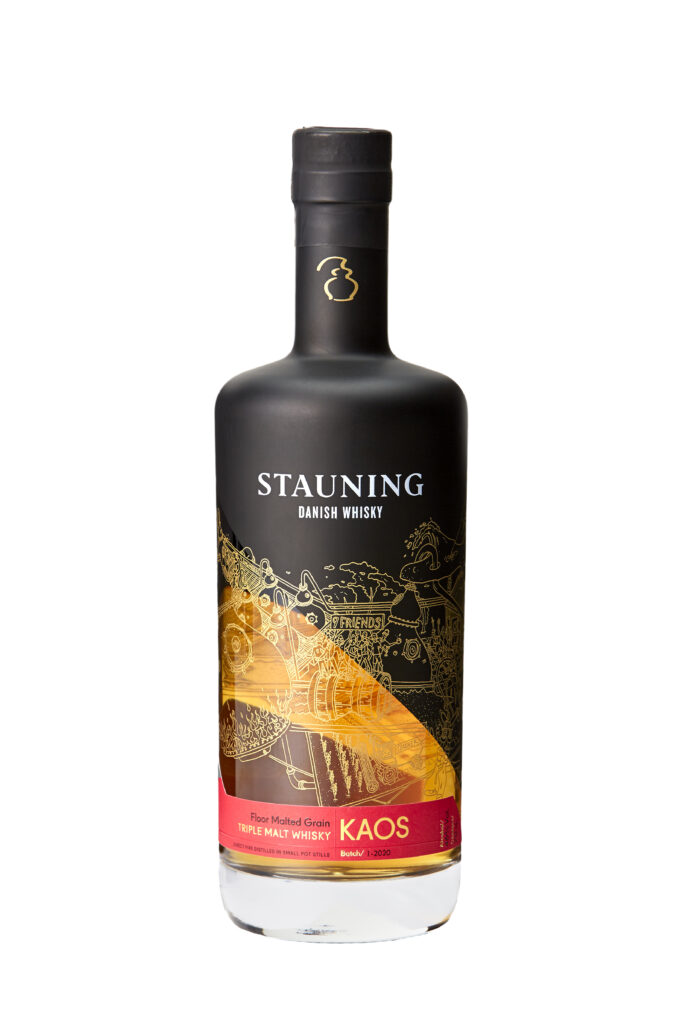 Stauning KAOS Trippel Malt
46% ABV
I princip allt som Stauning gör, samlat i en flaska. Lite rök, lite krydda och mycket komplexitet i en mångsidig nordisk whisky.
En extremt mångsidig whisky: För den fullständiga upplevelsen, drick den klassiskt rent som en whisky, lägg till is för en bourbon/rågkänsla eller krydda din klassiska whiskybaserade cocktail med en nordisk kaotisk twist.
Art nr SB: 54432
Stauning Smoke smakar som en varm sommardag på heden; en milt rökt single malt whisky gjord på rent västjyska maltkorn, rökt över lokalt skördad torv och ljung. En fullblods terroirwhisky som fullständigt kommer att knocka dig, men på ett varsamt sätt.
Stauning Smoke sammanfattar destilleriets innovativa New Nordic-whisky-filosofi: Tillverkad av rena lokala råvaror, mältad på öppna golv, rökt över torv och ljung som finns i landskapet kring Stauning, dubbeldestillerad i små flamuppvärmda pot stills och slutligen lagras det i fat som är fyllda för första gången.
Resultatet är en elegant och förfinad whisky med en mild röksmak och en komplex karaktär som osar av sanddyner, hed och vind vid Nordsjön.
Art nr SB: 54418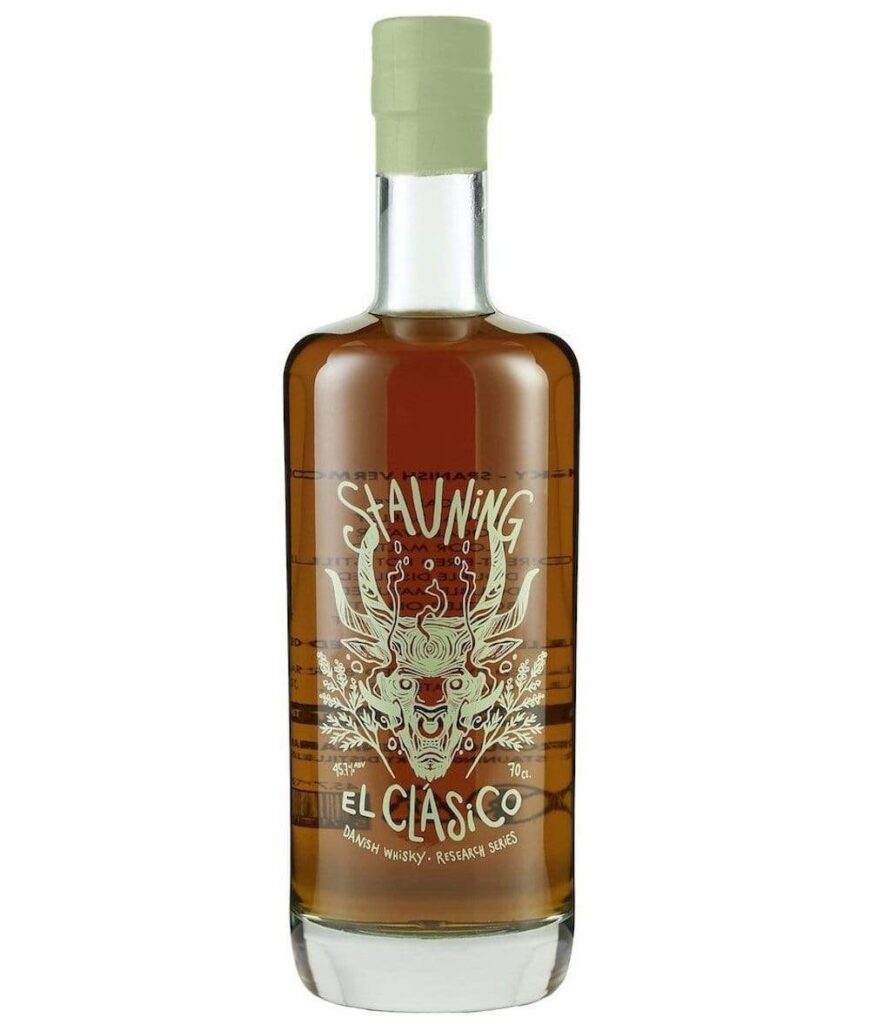 Stauning RESEARCH SERIES
El Clásico 45,7% ABV
En nordisk whiskydemon med iberiskt blod som flödar genom dess ådror. Stauning El Clásico är en mogen rågwhisky som dessutom har lagrats på vermouthfat. Rågwhisky och söt vermouth har alltid gjort en stark line-up i den ikoniska cocktailen Manhattan. Vi ville fånga den magin i vår rågwhisky. Så den mognade whiskyn fick en finish på vermouthfat, och experimentet blev mer än framgångsrikt: En varmblodig whisky med en djup, bärnstensfärgad färg och en söt eftersmak med en touch av bittra växter. Perfekt för en exklusiv cocktail eller avnjuts som snygg. Resultatet är en varm och intensiv smak av nyskördade spannmål med en kryddig och bittersöt eftersmak. En klassiker är född.
Art nr SB: 55405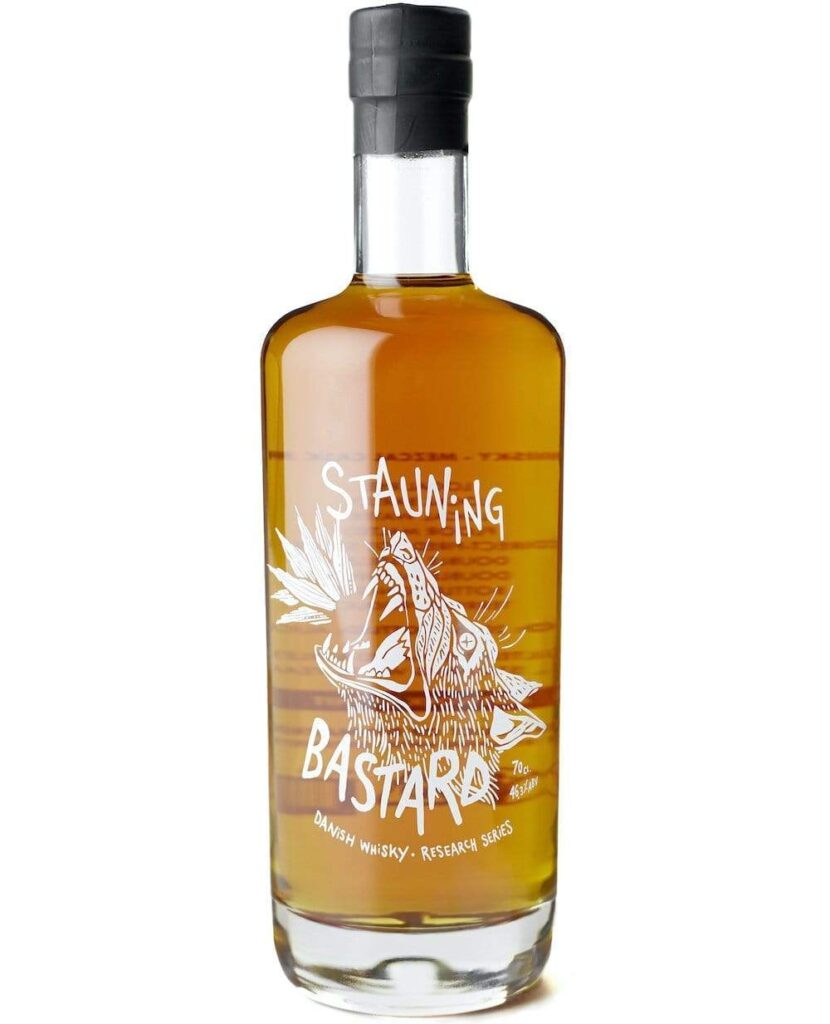 Stauning RESEARCH SERIES
Bastard 45,7% ABV
Vinden från Nordsjön blandar blod med Mexikos öken i denna dubbeldestillerade rågwhisky lagrad på gamla mezcalfat. En illegal kärleksaffär med en mild och exotisk eftersmak. Stauning Bastard en rågwhisky gjord av enbart lokala råvaror, mältad på golvet på vårt destilleri och dubbeldestillerad i flamuppvärmda pot stills. Efter minst tre år på nya, rostade first fill amerikanska ekfat har den rundats av med minst 6 månaders lagring på gamla mezcalfat från mexikanska Oro de Oaxaca. Resultatet är ett elegant kärleksbarn vars like du inte hittar någon annanstans i världen.
Art nr SB: 55628

In 2007, Melbourne born and bred, Starward founder David Vitale began with a simple vision; to create a distinctly Australian whisky to offer the world with pride. Starward has been consistently recognised for its bold spirit and flavour, leading to it becoming what is now one of the fastest growing Australian whisky brands. Over the last three years Starward has expanded globally, launching an international presence in the New Zealand, US, Germany, UK, France, and Japan. Through driving distribution in these key markets, Starward is leading the way for Australian Whisky around the world and we look forward to continuing the growth in in the years to come.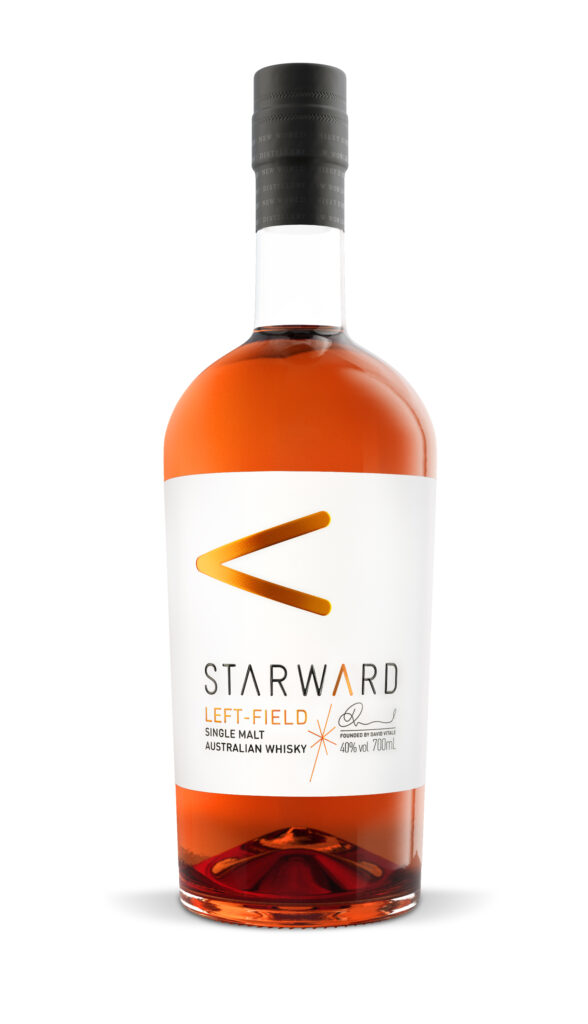 STARWARD LEFT FIELD 40% ABV
Left-Field is an approachable, versatile single malt whisky with all the hallmarks of Starward's distinctive Australian red wine barrel maturation. This whisky is unique to Starward as we only use 100% French oak to give a rich and spicy mouthfeel and to enhance the complex oak characters, while maintaining the delicate wine flavours. Crafted to be smooth and flavoursome in style, enjoyed any way you like; mixed, shaken or built.
Nova is Starward's signature single malt whisky which has received several global awards, but the real gold is in the bottle. This whisky is fully matured in Australian red wine barrels from wineries local to our distillery. These wineries make the great Australian shiraz, cabernet and pinot noir wines. With our distillery located within a day's drive to Australia's most famed wine regions, we often receive many of our barrels within hours of being emptied. This allows us to 'wet fill' our barrels with new make spirit to access as much of the wine's fruit character as possible. The result is a deliciously balanced and bold whisky made for sharing and mixing.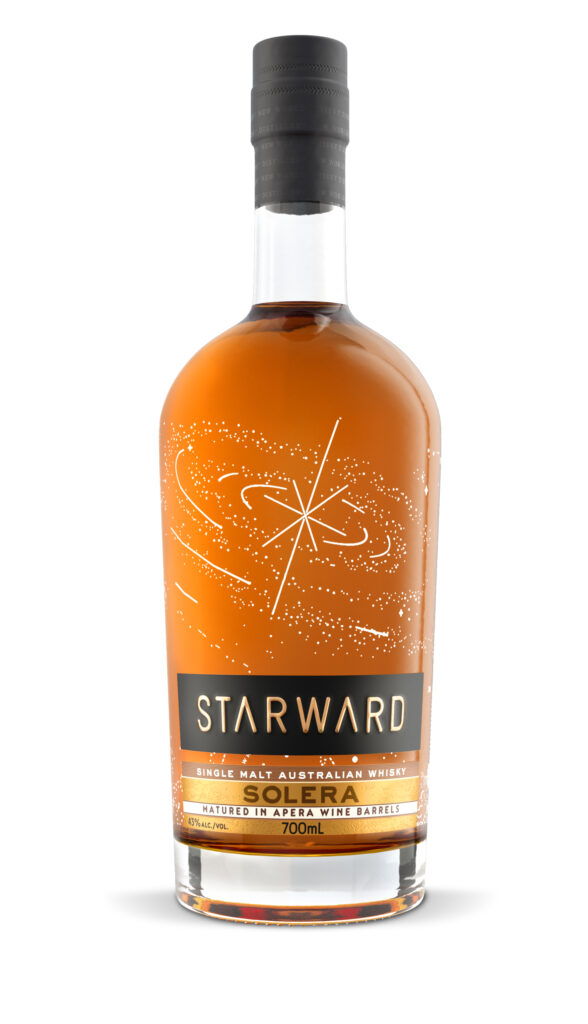 Solera was our very first Starward whisky. Made using the traditional solera process means there is a drop of our very first whisky in every bottle. Matured in Australian Apera barrels, this whisky is a bona fide Starward Australian take on a traditional whisky.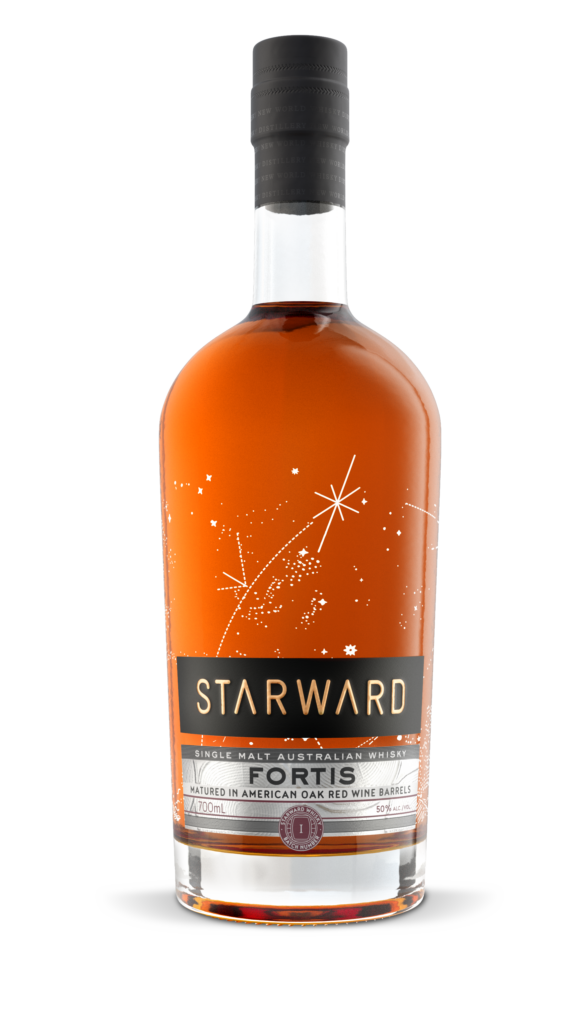 Fortis meaning 'brave, bold', is a full bodied, full flavoured whisky that celebrates local Australian ingredients. Bottled at a higher ABV of 50% and non-chill filtered, this whisky is fully matured in 100% American oak red wine barrels, predominately sourced from the Barossa Valley. These barrels, which previously held big Australian bold reds like cabernet and shiraz, offer a fuller and richer mouthfeel to this single malt whisky. Starward Fortis is blended in batches, meaning each batch will be unique but will maintain the core flavour profile and intensity.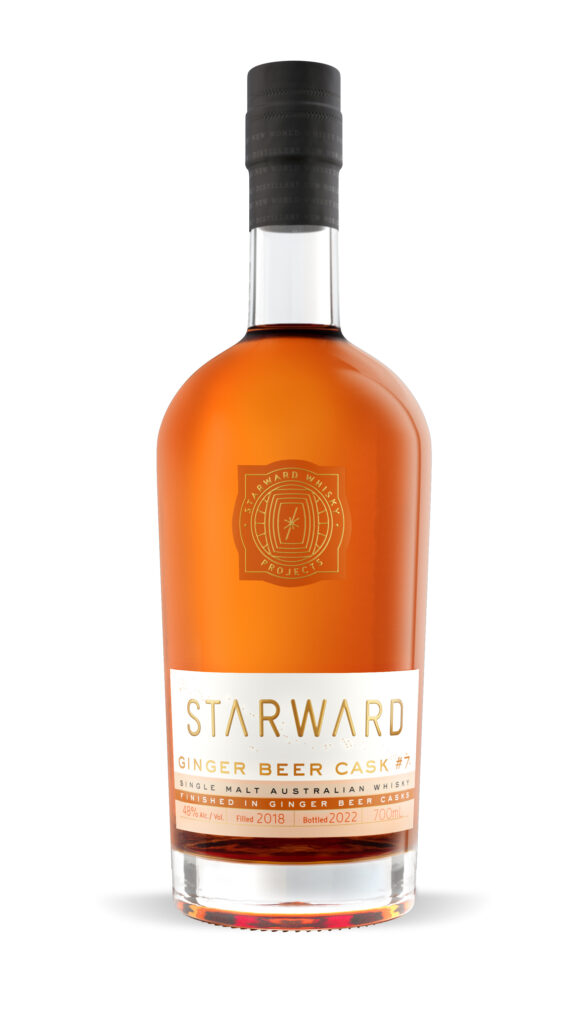 STARWARD GINGER BEER CASK 48% ABV
Starward's cult classic returns and is an absolute
belter that pushes the boundaries of what whisky can be. Born out of Starward's innovative Projects Program, Ginger Beer Cask #7 is an annual batched release from the awardwinning Port Melbourne distillery team. Now in its seventh
release, this Melbourne-made and delicious single malt whisky can be sipped straight to revel in the ginger intensity, mull over accompanied by some good dark chocolate or one to drink any way you'd like. Ginger Beer Cask is very versatile, mixable, and oh-so sippable.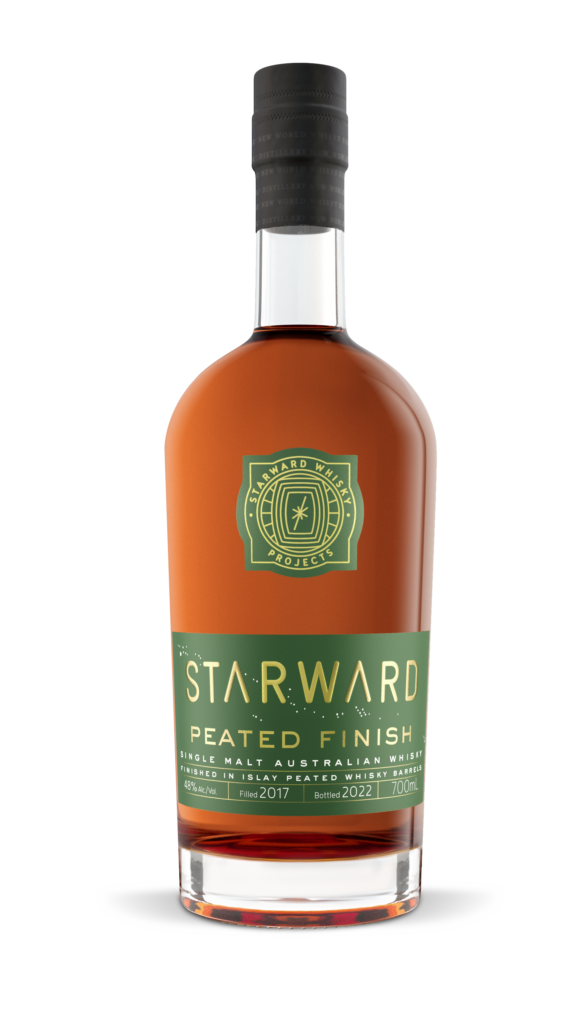 STARWARD
PEATED FINISH 48% ABV
At Starward, we are constantly pushing the boundaries of what whisky can be. Following the successful release of 'UnExpeated' in 2021, we're back again with a second 'new world' take on a traditional, old-world whisky.
Introducing, Peated Finish. Peated Finish is a red wine barrel aged, single malt whisky finished in peated whisky barrels for 18 months that came
straight from the rugged coast of Islay, Scotland. This is double the time that the whisky spent finishing in these casks in comparison to UnExpeated giving it a richer and smokier characteristic.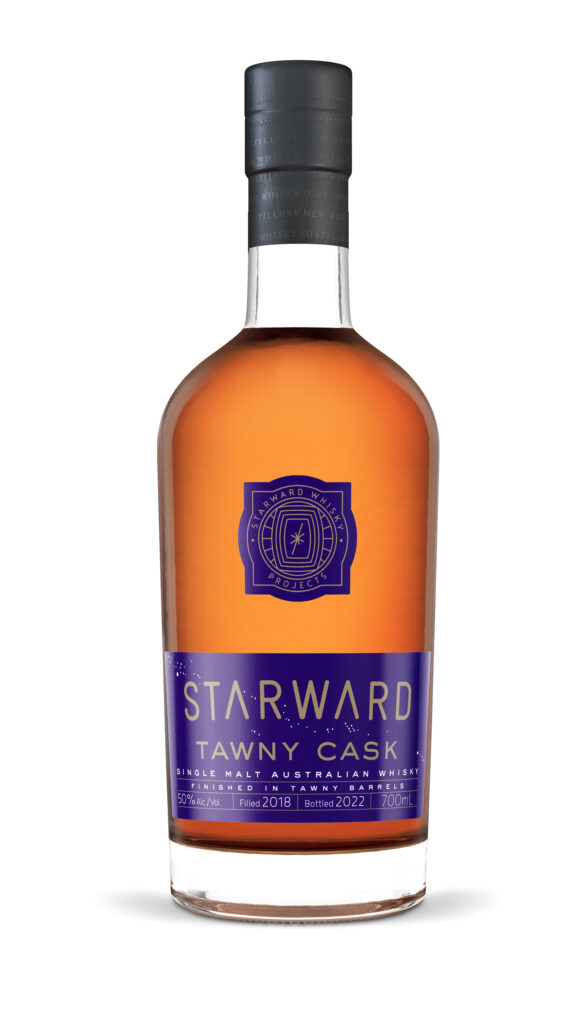 Single malt whisky made from local brewers' barly and matured in Australian tawny fortified barrels. Each barrel was a smaller 100L octave size which provides an extra full- bodied flavour.
Just like Port, Tawny is a fortified wine that is decadent, rich and easy- drinking. We wanted this exact character for our Tawny whisky.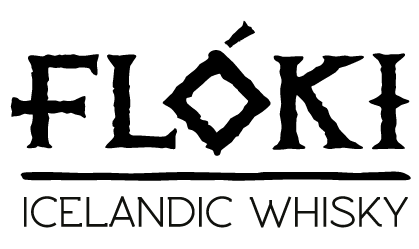 Using barley harvested from Icelandic soil combined with world famous Icelandic spring water, we crafted the Flóki recipe. Craftsmen designed and readied our custom distillery. And we painstakingly adjusted, tested, and perfected each element over four years and more than one hundred trials. We made ready for the long sleep that fine whisky requires.
This first edition of Flóki Single Malt was released in November 2017 when it became the first Icelandic single malt whisky. It is a single barrel bottling aged for 3 years in ex-Flóki Young Malt barrels stored at Bjálmholt, our family farm. With a subtle yet complex flavour this malt puts its own twist on the traditional whisky experience. In 2020 Flóki Single Malt Whisky received a gold award in the London Spirits Competition.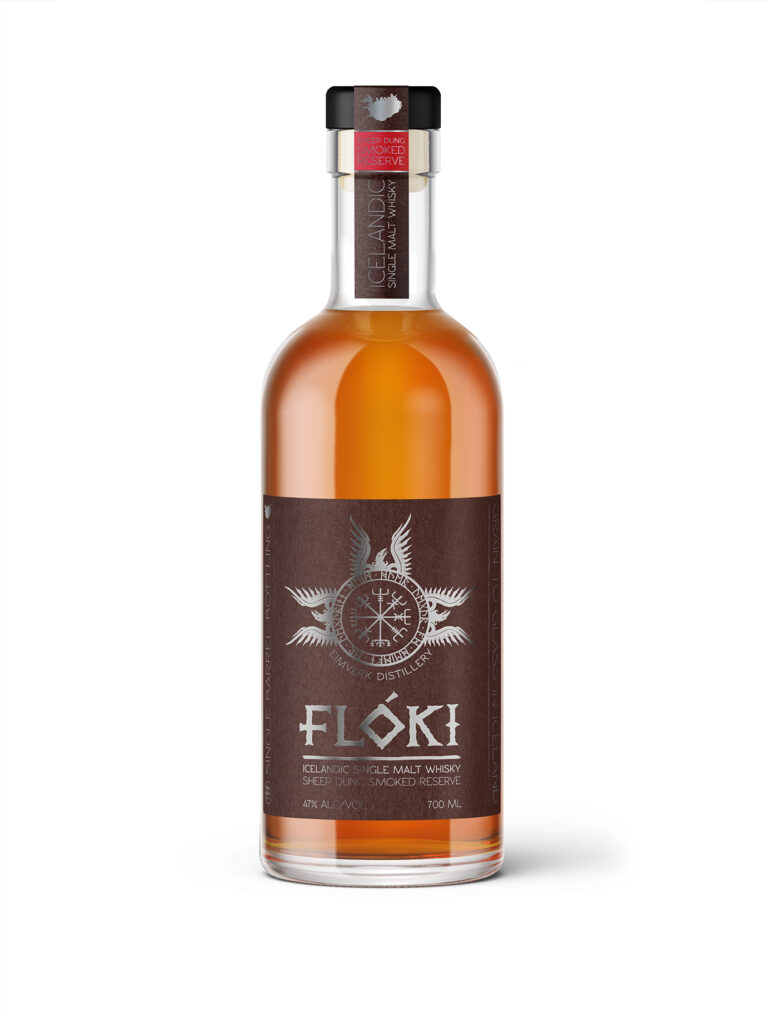 Flóki Single Malt - Sheep Dung Smoked Reserve
Our Sheep Dung Smoked Reserve is a truly unique smoked malt. Here we apply an old traditional Icelandic smoking style using sheep dung to smoke the barley. The result is a unique whisky with a complex flavour profile. Pleasant nose with fruitcake notes, honey and stewed apple. Hearty and herbal hints on the palate with a background reminiscent of tobacco leaves. Sweet smoky notes compliment the intense flavour of the Icelandic barley and a rich, lingering aftertaste that evokes the old rural Icelandic countryside. It is a single barrel bottling aged for 3 years in ex-Flóki Young Malt barrels under the base of mount Hekla.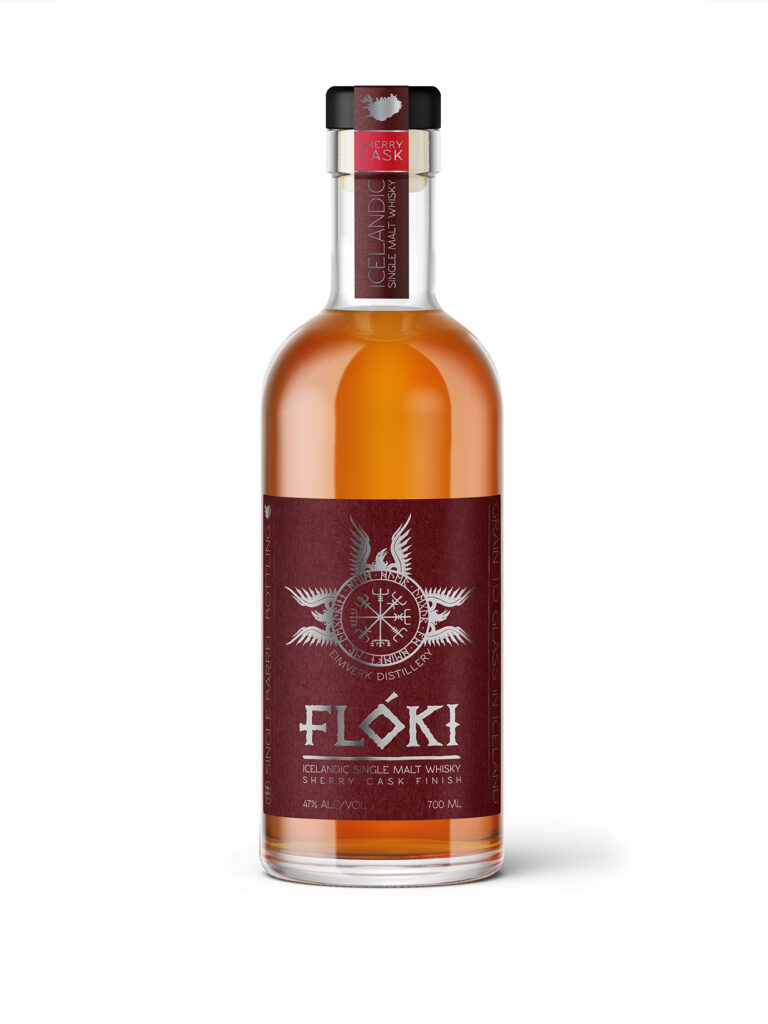 Flóki Single Malt
Sherry Cask Finish
First released in 2019, this reserve is matured in American oak and finished in first fill Oloroso sherry casks from Spain. The Sherry cask lends Flóki the delicious smell of stewed apple with hints of custard almond and sherry notes. Savory sherry notes compliment this whisky on the palate with cooked fruit, toffee and gingerbread.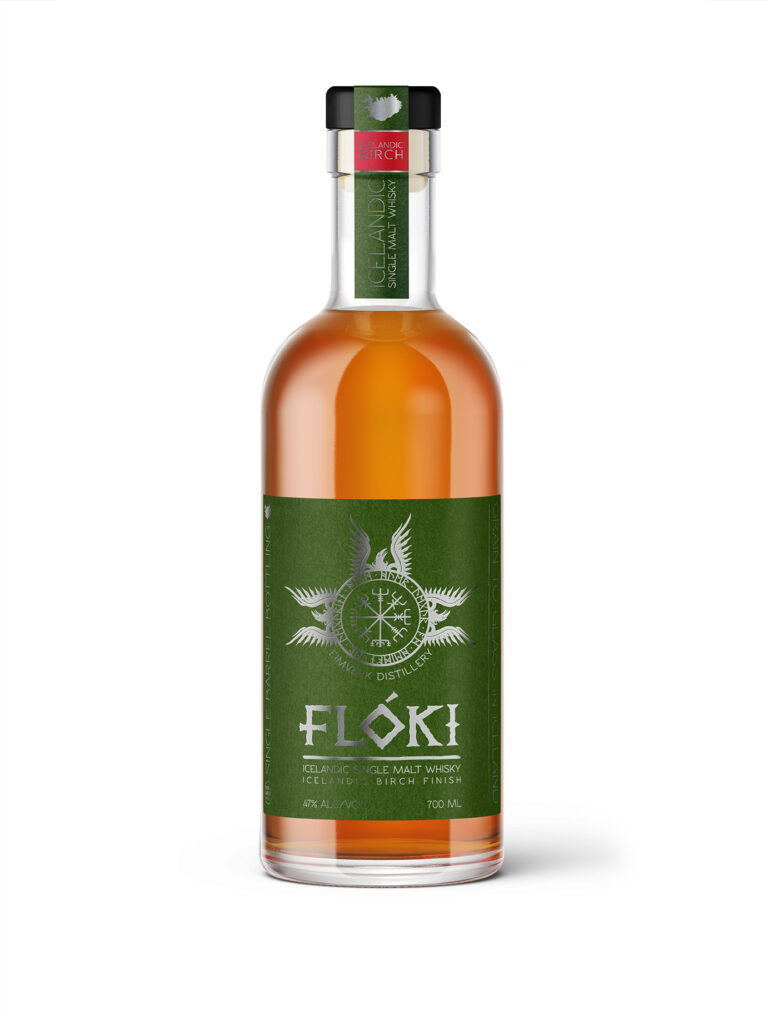 Flóki Single Malt
Icelandic Birch Finish
Birch is one of Iceland's few native trees and one of the most abundant. Therefore it is a natural addition to our purely Icelandic spirits. First released in 2019, this reserve is matured in American oak casks for 3 years and finished for 3 months with Icelandic birchwood. The porous birch complements this whisky, lending the flavour notes of apple blossom, heather and moss with the sweet taste of honey, licorice and mint. The aftertaste leaves you with the subtle flavour of cinnamon, nutmeg, and dried fruits follows.
Flóki Single Malt
Beer Barrel Finish
First released in 2019, this reserve is matured in American oak and finished in a cask that previously held a brewer's choice seasonal stout beer from one
of Iceland's craft breweries. The stout infused oak gives a unique smoothing licorice tone to the character resulting in a whole new whisky tasting experience.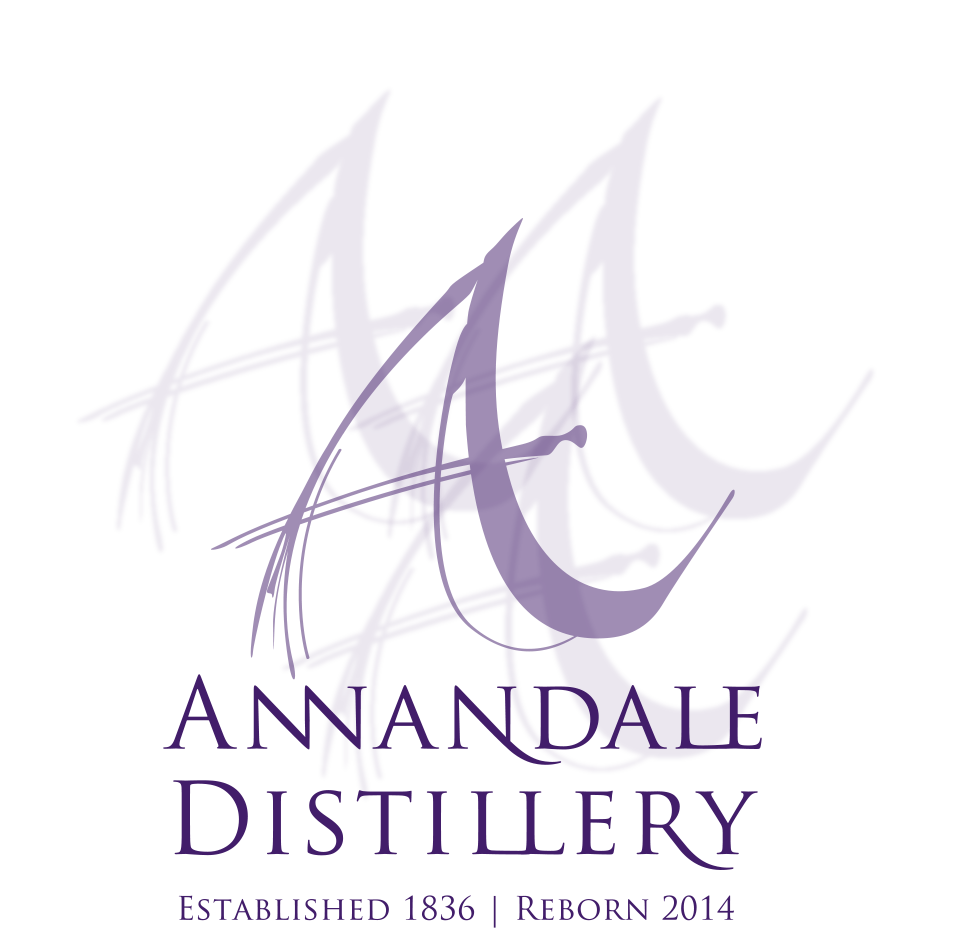 Annandale Distillery återuppstod 2014 efter att ha legat i träda närmare 90 år. Destilleriet upptäcktes av Professor David Thomson and Teresa Church som omgående föll för det gamla destilleriet, och bestämde sig för att restaurera och starta igång produktionen igen.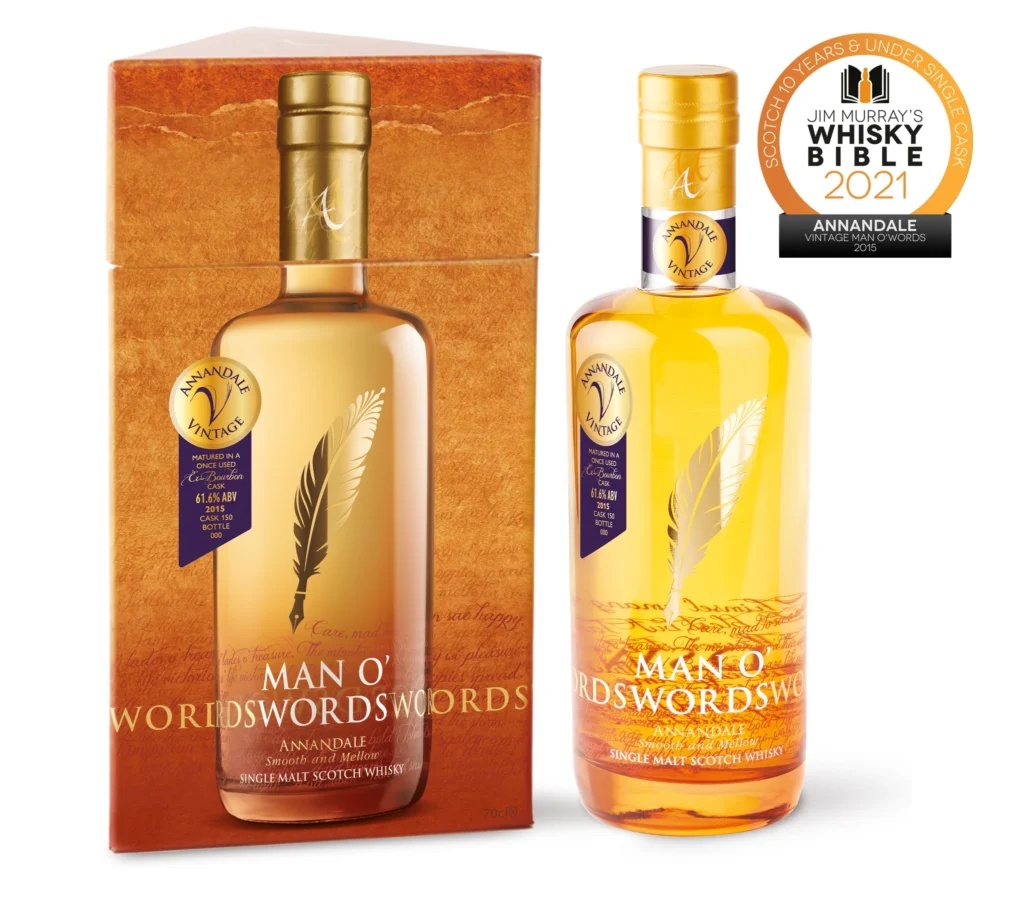 Man O´ Words
Ex bourbon cask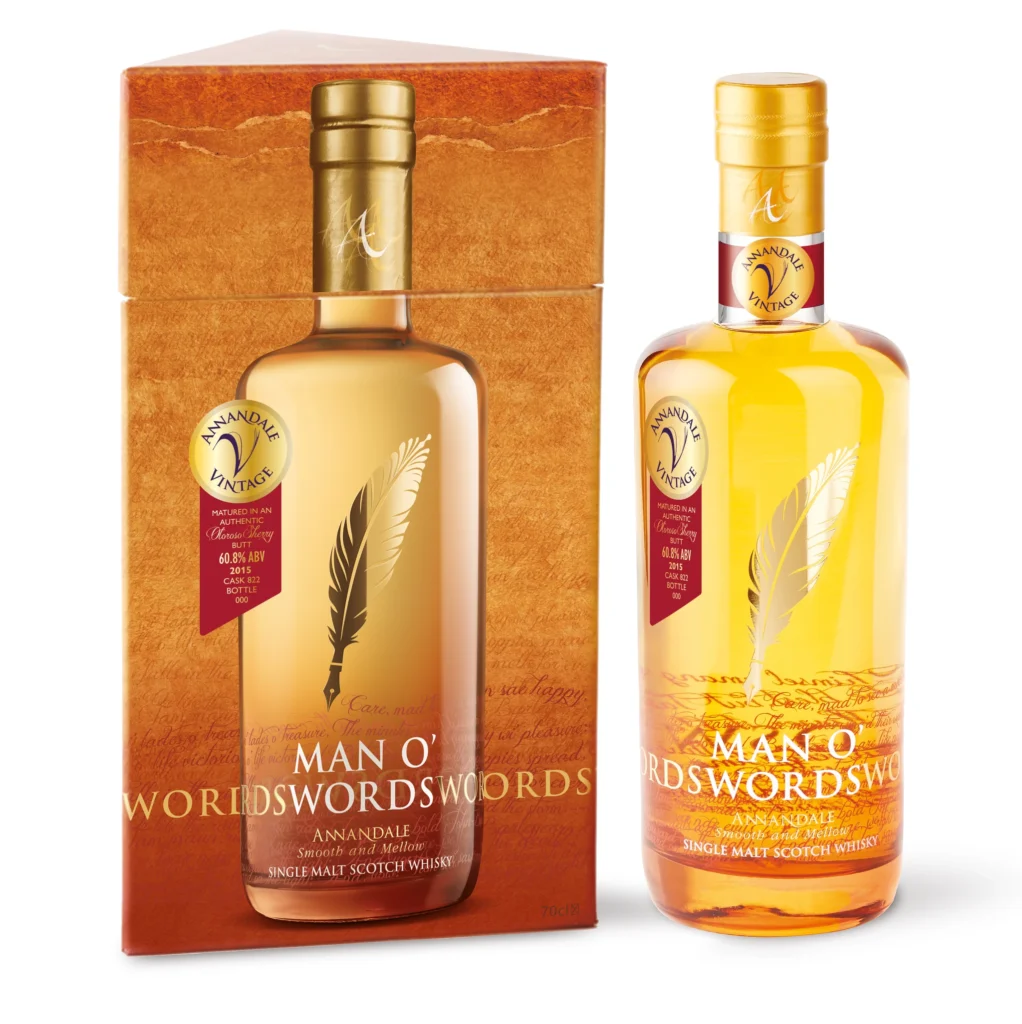 Man O´ Words
Ex sherry cask
BASTILLE 1789, en unik hantverkswhisky med ett tydligt inslag av franska traditioner. Whiskyn använder endast de finaste råvarorna och lagrar sedan whiskyn på ekfat av Limousine ek. Samma ek används att lagra Cognac på, och med denna touch får du en helt egen whisky, med en helt unik smakupplevelse.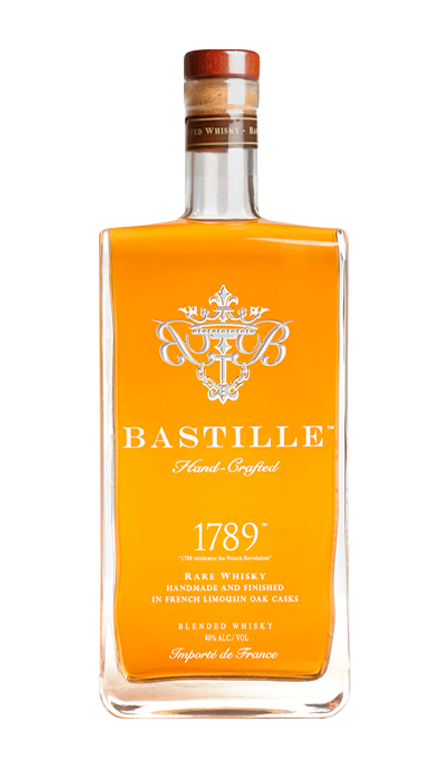 Bastille 1789 Blended Craft Whisky
En anmärkningsvärt fruktig whisky med en härlig orange bärnstensfärg. Att njutas som den är, på is eller låt den göra dina cocktails unika.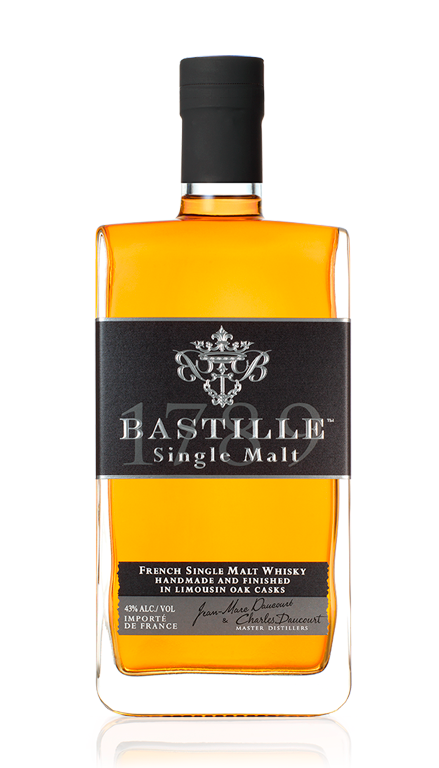 Bastille 1789
Single Malt Whisky
Delikat och rund smak av torkade frukter, söta kryddor och läder. Avslutningen har en karaktär som påminner om torveldad malt..